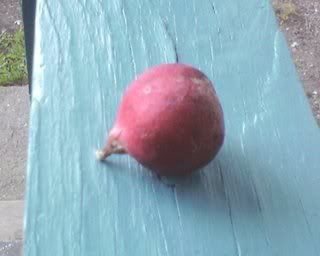 I found this in the bottom of my gym bag yesterday morning. It is a radish. I have no idea how it got in there, but I reached in to get my weight gloves from the bottom of the bag and felt an odd rolly-polly-ness. I thought, "Hmmmm, did the kids drop a bouncy ball?" However, the little nub on the end ruled out bouncy ball. Out I pulled it and found it to be a rather soft, overly ripe radish.

The Bad and the Good of the past couple of days:



Bad

- the water heater went on Wednesday and it cost $500 for a new one (plus fittings and such).



Good

- Pat is Mr. Fix-it and he was able to take out the old water heater and install the new one. Praise God that he still has plenty of vacation time and was able to take the day off. We had hot water by 8pm that night - even though he ran around all over the place comparing prices, etc. The cost for installation from the vendor: starting at $389.



Bad

- Erin pulled a muscle in her neck & shoulder region badly this morning. We don't even know how exactly it happened. She is a tough one - she hates going to the doctor so she'll downplay pain to avoid it. It hurt badly enough that she wanted to go right away.



Good

- I had called the doctor's office to issue the order for her thyroid panel to be done and was supposed to go up there anyway to pick it up.



Bad

- Her regular doctor wasn't in that office today.



Good

- His partner was and it turned out that she likes him better. AND he was very pro-active feeling about her thyroid. The other doctor hadn't gotten around to writing the order. This one read the ultrasound report, her old test, checked her over, and said if it was him he would have her on treatment

now

. He wrote the order for the blood work; I'll be taking her to have it drawn on Monday morning.



Bad

- There was an outdoor event that I was supposed to attend and give the devotional at tonight - after it is dark out. I'm feeling frazzled and fried, not feeling like I could do a good job.



Good

- Finding more good in it, Erin's injury makes it impossible for me to attend. I have no choice but to stay at home and REST. Poor Erin has some medicine to take at night that is going to knock her out, but she has been in enough pain that she wouldn't be able to sleep like this. Therefore, I sent my planned devotional over to the hosts.



Bad

- The weather has made my curly hair even more uncontrollable.



Good

- A couple of bad hair days in a row may be just what I needed to push me into trying some new strategies for managing my wild mane. The Curly Girl Method for Curly Hair. Shockingly, it involves not shampooing your hair. (Yeah, I have a hard time getting over that, after all I've been a shampoo-rinse-repeat girl my whole life). Instead if you "shampoo" you are supposed to do it with the conditioner.