First, I was greeted by a couple of party animals on Saturday morning.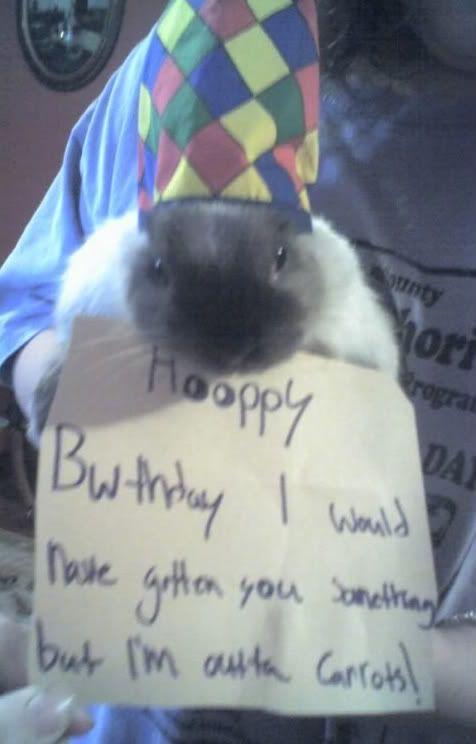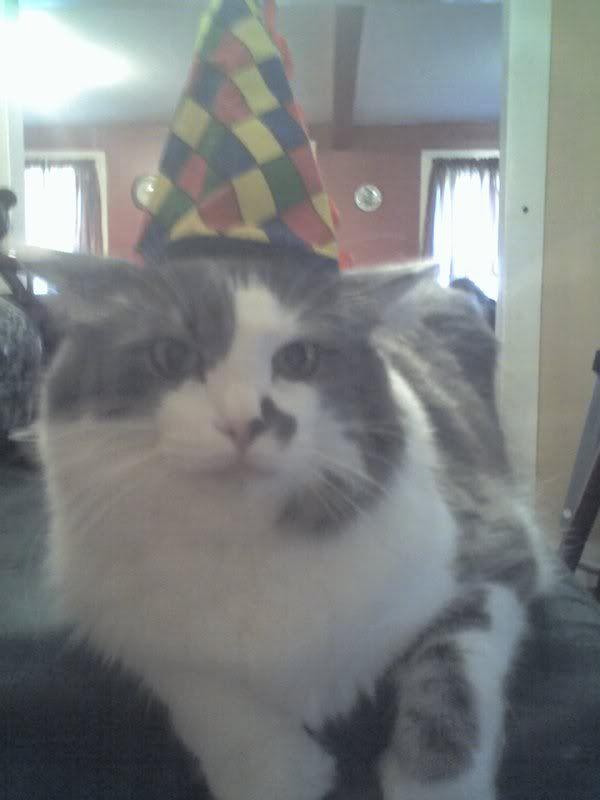 Whiskers is just a baby bunny, so remember to read that with a baby bunny accent. :) Dexter was not to outdone, so he had to wear the party hat for a bit, too. Virginia would have no part of it; the dogs wanted to eat it. Party items must seem tasty. Pat had gotten me some flowers and the cats were interested in eating those.

After staying up way, way too late, I was up by 8am anyway...with the intent to take the dogs on a long walk. Unfortunately, I got distracted by email, by laundry, by dishes. By the time the other sleepyheads woke up, it was time to think about getting ready to go out to lunch.

We picked up my dad and went to our favorite local Mexican restaurant. Jenna, Josiah and little Layla joined us.

It was Layla's first restaurant outing and she was a doll. For a while, she was transfixed by a toucan on the back of the chair her seat was on

. I had been running behind all morning and had just drunk my protein smoothie at around 10:30 or so. I wasn't even hungry. I'm pretty sure my leftovers are in the fridge.

We came home and ate the massive cheesecake that I made. It was NY style cheesecake made with 40 oz of cream cheese, sour cream, heavy cream and 5 eggs. Fattening as heck! Covered with blackberries. Yum!

The mail came early and hurray! My new Asics Gel Enduro 4 running shoes arrived. Jenna is impressed that I can order shoes online and they fit me. It's because I buy the same brand, same model - it just gets updated, year after year. Size 7 in Asics is the perfect fit for me. I like shoes slightly loose, but snug in the heel. Saucony fits this way as well.

There was a gorgeous picture of Layla that the kids took which I admired. They had it blown up into an 8X10 for me and framed it. She is now proudly displayed in the living room. There was also an adorable one with her arms up over her head, it makes me think she's playing Simon Says.

After a bit, it was time to go up to Little Italy in Cleveland. Rhianna had a promotional modeling job for Gusto Ristorante Italiano. There was an art festival going on, so we decided to hang out, walk and eat. Everyone came and Layla got her second meal out, lol. And she sure did have a meal out, she woke up hungry right when the food came. We ate at La Dolce Vita, down the road, because Gusto's was packed and even pricier. La Dolce Vita was pretty pricey anyway. Packed and busy - it took forever to get seated (outdoors, no less) and forever for the food to come.

Here's the comparison...7 of us ate at the nice Mexican restaurant by home. My father and Pat had shrimp specialties, the rest of us had chicken fajitas and one giant burrito California. My father had beer, Pat had iced tea, the rest of us drank water. The servings were HUGE. The bill, including a generous tip, was $65.00. At La Dolce Vita, we each had tiny personal pizzas, only 5 of us eating and the bill was $65 before the tip.

Little Italy is a nice neighborhood with beautiful old structures. We walked around, looking at art, going into little vintage shops. The smell of grapes was heavy in the air. Many backyards had trellises filled with grapes, it was delicious. It was a gorgeous evening to stroll around and dine outdoors.

By the time we came home, I was exhausted. BUT my new issue of Oxygen Fitness magazine arrived, so I had to at least scan through it for a few minutes before hitting the sack.

I have a Barnes & Nobles giftcard that needs spending, new running shoes and Pat picked out a little black dress for me and then thought maybe I'd better go see it and make sure I like it first. He wanted to do that yesterday afternoon but there was no time.

I think I'm going to blog about this last orbit around the sun of mine, but not now.

~o~

This morning I was up before the sun and took my new Asics for their break-in run. 45 minutes hitting the hilly neighborhood spots. It was very chilly out this morning. Hard to believe it's supposed to be 80F out there this afternoon.

The plan is to do P90X yoga this afternoon - when Rhianna gets off the elliptical and I have room. She's parked in front of the TV. I also have to make some brownies and goodies for Parent Night tonight at AWANA.