Maybe it's the grey, maybe it is because it is already October 15th, I'm not sure...but I'm amazed and a bit saddened by how quickly time is flying.

I was walking home from the gym, trying to stomp on especially crunchy leaves, seeing particularly bright ones and wanting to pick them up and carry them home. I was thinking about autumns past, taking my little girls out to collect leaves and press them between sheets of wax paper. And I was remembering being a little girl myself, excitedly finding just the "right" leaves and hovering around the ironing board while my big sister pressed them for me.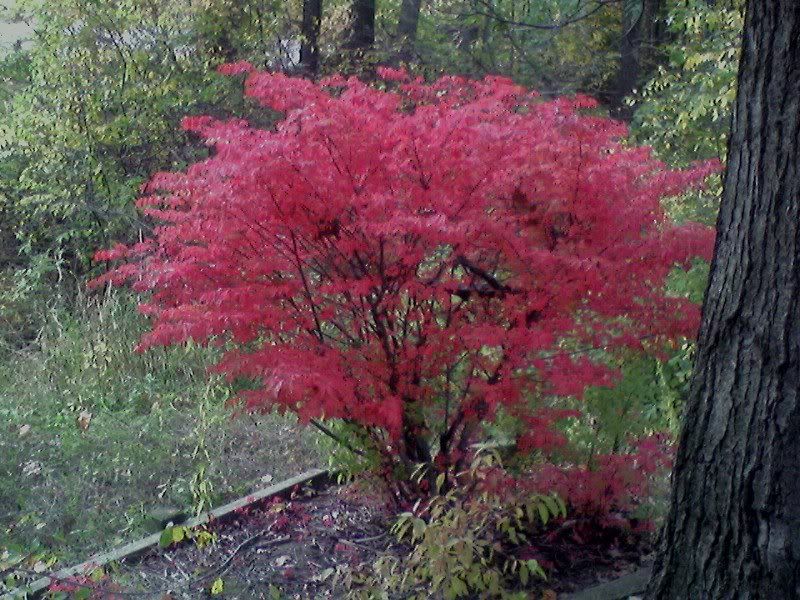 At the park yesterday, doing a field workout, the girls were saying, "Remember when we used to come here and look for leaves and stuff?" That's when I took this picture of a lovely burning bush. I got a bit caught up inside remembering all the times we went there, hunting wild flowers, fungus, nuts, whatever...making a field trip out of it. I was remembering all the long hikes in other parks that we went on as a family - in all four seasons. I remember talking with them about how skunk cabbage comes up so early (February) and makes its own heat, about maple sap rising during January thaws. I can still see each little girl with birdseed in her hand waiting for the little birds to land on her while she stood perfectly still.



Rhianna was nostalgic yesterday, too. She remembered playing softball at that very same park and always getting hit in the face! We found a softball in some bramble during our cool down trail hike.



When did time get so crazy and busy that we stopped doing things like this regularly? One of the last times we went on a "family hike" all five of us was at least 3 or 4 years ago. I remember a sullen teenager who absolutely did *not* want to be spending the day that way. We drove out to a park that we had never been to, near the Pennsylvania border. We brought a picnic. We had a close encounter with sleeping bats. Skipped rocks in a stream.

Now everyone is older and life consists of running this way and that. Figure skating, football games, youth group, meetings, shopping, friends, etc. It seems that time is so compressed, that there is too much that we have to fit in to every 7 days that we're not taking the time any more to enjoy being outside together, playing with leaves and picking up cool rocks.

Oh, there have been some hikes here and there, but not all of us. We did spend a lot of time with Erin at a nice little park and nature center over last winter. Maybe now that Layla is here, we can do some of these things as a group of 7. There is just something about being

together

. All of us. Before we're too old to enjoy it. And in spite of teenagers who get sullen about it, there is always the hope that they'll have fond memories, too.

I think it's time to prioritize hiking together and things that involve just enjoying the world again. I'm a bit tired of hustling and bustling all the time. Time to just say "no," and organize a bit so that there is time.

Just for the fun of it, here is a picture of me and Pat, back in the day. We used to spend hours hiking and exploring the woods. I'm making such a goofy grin...I wish I remembered what it was about. He looked sort of like Chachi back then.

(Notice: Somehow back then my hair was going straighter than it did after having children. I was a curly baby, but in teens/early 20s it was just very wavy)

.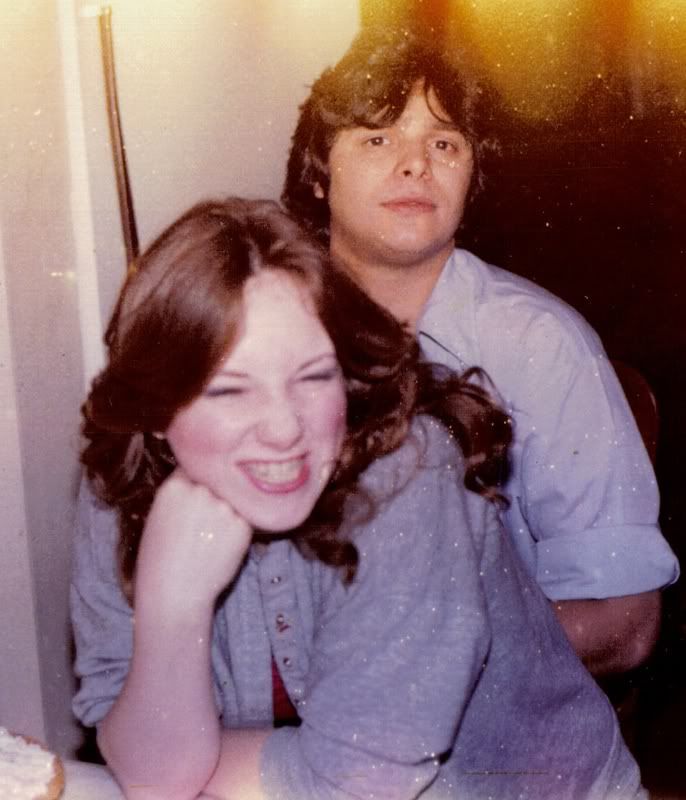 Blogged today's workout at my Sweat Report.

A sweet note: Last night while watching

The Biggest Loser

, he came and sat with me on the chair-and-a-half and held my hand for most of an hour while we watched.